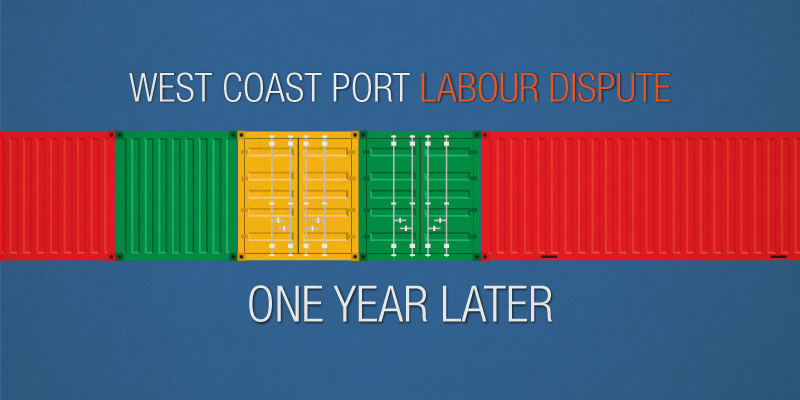 It was around this time last year when the West Coast Port labour dispute was in full swing and many different businesses both in North America and abroad were feeling the effects. What had started as tensions between the International Longshore and Warehouse Union and the Pacific Maritime Association, led to negotiations failing over wage and labour conditions. From October 2014 to March 2015, the port's ability to effectively and efficiently process cargo was severely impacted as several cargo-laden ships were not unloaded and instead left stranded up and down the coast.
Several companies were unable to ship their products in a timely manner leading to the accumulation of more and more extra supplies and products. This inventory glut crowded warehouses, eventually forcing companies to cut back on their new orders to clear out their backed-up storage facilities, costing several different businesses in the short and long-term. A new study by the Washington Council on International Trade came out this week and it analyzes the costs and impact of the labour dispute across multiple industries and sectors, including agriculture and food processing, retail, and transportation and manufacturing.
Several different estimates were forecasted at the time as to the cost of the slowdown. "Kurt Salmon consulting firm previously estimated the slowdown would cost U.S. retailers $7 billion. The Manhattan Institute conservative think tank projected apple farmers alone lost $19 million during each week of the slowdown. The North American Meat Institute estimated their losses to be more than $40 million each week" cites this article on USNews.com reflecting on the topic.
The study gives a breakdown as to the actual price tag for the slowdown which ended up being very significant for both the U.S economy, trade, and several different industries:
U.S. exports dropped by more than $11 billion (nearly 6 percent) between May 2014 and February 2015.
An estimated $558.8 million in exports were not shipped by water during those months. Some exporters diverted to air cargo, increasing shipments by air a total of $152.6 million.
The value of goods that were not shipped during the period was $403.2 million.
Importers racked up an additional $345.1 million in additional costs through reductions in inventory incurred by retailers, delayed delivery of components to manufacturers and so forth.
Demurrage (storage) fees that would not have occurred if there were no port congestion totaled $7 million, and truck-idling costs of $14.2 million resulted.
Fruit and meat rotted aboard idle West Coast ships, many of which were anchored off relatively warm ports like Los Angeles.
Shipping companies rolled out surcharges upward of $1,000 per container on some ships to help cover expenses related to failed deliveries.
The total cost the study determined, is $769.5 million, however the council is very clear that this is only the short term cost. Long-term costs will be more far reaching. "Future costs, such as damaged client relations resulting in the loss of business or sole source contracts, can have long-lasting impacts on Washington businesses," said the study. "While these impacts are not quantified in this report, they are real and potentially much greater than the near-term costs presented above."
That's it for us this week! If you liked this blog post, why not subscribe to our blog? If you're interested in what we do as a 3rd party logistics provider, don't hesitate to check out our services (as expressed above, we are very pro finding you the lowest total cost!). We're also in the twittersphere, so give us a follow to get the latest logistics and supply chain news!