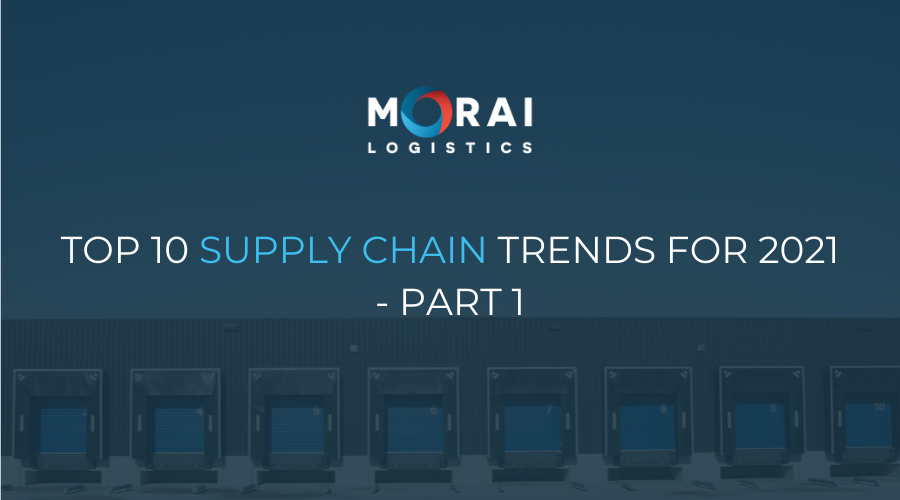 As a tumultuous year marked by supply chain disruption comes to an end, eyes turn to 2021—so what are the biggest trends to watch out for heading into next year?
It's been a year of incredible turmoil and, subsequently, change. This has been especially true in the world of supply chain. Supply chains were hit very hard by the COVID-19 pandemic and were made to aggressively transform their operations in order to survive. As such, the year has seen them experience digitization at a rate unlike ever before. Moreover, their has been a strategic pivot from efficiency at all costs, to agility in order to bolster resilience. Now, as a new year fast approaches, the question becomes: how will these many changes shape supply chains going forward?
This article by Morai Logistics highlights 5 trends that will influence supply chains in 2021.
Environmentally Responsible Supply Chains
The push for green supply chains has been strong for years, and next year will be no different. More than ever before, customers expect the companies that they buy from to be responsible in regards to the environment. Not only that, a majority of them are willing to pay more in order to support products that are.
Thus, by taking their supply chains green, companies not only work towards bettering the environment but also gain more loyal customers. Not only that, but it has the added benefit of positively affecting company culture and reducing waste, improving profit margins.
The Automation of Robots
Automation and robotics have been tremendous forces of productivity in the supply chain in recent times. As automated robots are able to uniquely assist various sections of the supply chain, they've staked a claim for being a required component of quality supply chains. With that in mind, it's hardly surprising that their adoption will only continue at higher rates than before in the future.
An article from Finances Online provides an overview of many of the most valuable capabilities of automated robotics,
More companies today are using drones and driverless vehicles to streamline logistics operations. Companies and consumers can expect drones to become fully capable of making deliveries of small goods. Self-driving cars are also likely to be more advanced by 2020 … In warehouses, autonomous mobile robots will see more use in speeding up menial, labor-intensive tasks … robots can drastically improve the supply chain's productivity.
Blockchain Growth
Blockchain technology, despite a lot of buzz, has seen slow adoption. Given the many concerns around it, including whether it's truly scalable in its utility, the hesitation has been understandable. Yet, as visibility remains a major priority for companies, the technology is becoming hard to deny. More and more, companies are viewing it as a central piece in their supply chain visibility. With this being the case, blockchain saw considerable growth this year, and that growth should continue in 2021.
Emphasis on Transparency
Tied to both sustainability and visibility, is supply chain transparency. Customers want to know the consequences of a company's supply chain when buying its products. These consequences range from their environmental impact to their working conditions. In response to this, companies are looking to find ways (including the aforementioned blockchain technology) to give customers a transparent view of their supply chain operations and their outcomes.
A Globalized Workforce
The workforces of companies are changing. Already research shows that 80% of manufacturers have multinational operations as of this year. The main reason for this comes down to skills. Companies have skill gaps that they have to address, and limiting workforces to a single country hurts their ability to gain access to that necessary skilled labour. With this being the case, the multinational workforce trend will remain strong in 2021.