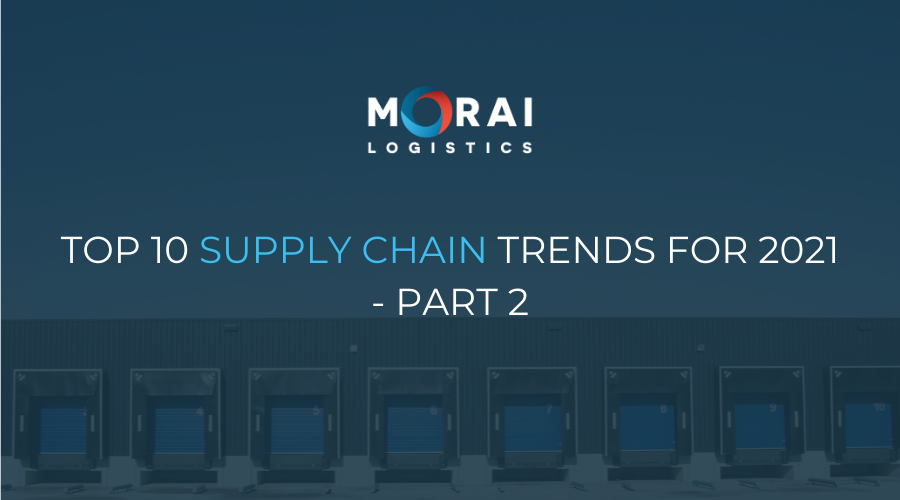 After such a hectic and transformative year for the supply chain, 2021 is finally around the corner—here are the biggest trends to keep an eye on going forward.
So much has changed in the world of supply chain over the previous 12 months. With the onset of the COVID-19 pandemic, supply chains were forced to dramatically reorient themselves in order to survive. In a landscape altered by such a global event, which is still actively impacting the running of supply chains today, the changes are going to continue going into next year. Last week, we highlighted the first five most significant trends we are anticipating in the near future. Yet, there remain many more movements in the supply chain to watch out for.
This article by Morai Logistics completes the top ten trends that will shape supply chains in 2021.
Increases in Third-Party Logistics (3PLs)
Companies are always looking for ways to reduce the cost of their supply chains. If they can do so while improving its quality then all the better. Next year should see more companies looking to third-party logistics in order bring down costs, delivery times, and improve customer service.
An article from Finances Online further explains,
Partnering up with third-party services can help companies reduce costs while improving customer service. For instance, more businesses will integrate and start to offer inland services, reducing overall freight costs, and streamlining the supply chain. Integrations are particularly useful for shippers who often use a combination of sea and land transportation for their products. With integrated services, delivery times become shorter, and customer service improves.
An Elastic Logistics Surge
What's become clear with the monumental disruption that the pandemic has brought is that supply chain efficiency isn't enough. In order for supply chains to be able to survive in the current climate, as well as be resilient against further disruptions down the line, they have to be flexible and adaptable enough to deal with whatever fluctuations the market brings them. This more malleable approach is elastic logistics. Logistics made to make supply chains responsive enough to shape themselves around demand.
Further Adoption of IoT
As mentioned in Part 1, visibility throughout the supply chain is one of the highest priorities for companies. A large part of that effort to achieve such visibility is via the continued adoption of IoT devices. Certainly, IoT has already become a prominent part of supply chains. Yet, that prominence is set to grow even further, as companies look to IoT technology like sensors to give a complete and continuous view of their operations.
Artificial Intelligence (AI) Driven Automation
Automation comes in many forms. One of those forms (automated robots) was covered in Part 1. Another kind of automation that is becoming increasingly critical to the supply chain is automation facilitated by AI. One of the main reasons AI is playing such a big role in automation is that it can automate certain supply chain processes via algorithms based off previously collected data. This means the removal of human error and, thus, boosted efficiency.
Agility will be Paramount
Finally, as suggested in the Elastics Logistics section, there has been something of a realignment of supply chains this year. Supply chains can no longer prioritize being lean over everything else. With ongoing, and the possibility of future, large scale disruption hanging over supply chains, it's become clear that agility comes before everything else. An agile supply chain means a supply chain that is able to quickly adjust its operations to respond to market pressures. That's the supply chain of the future.