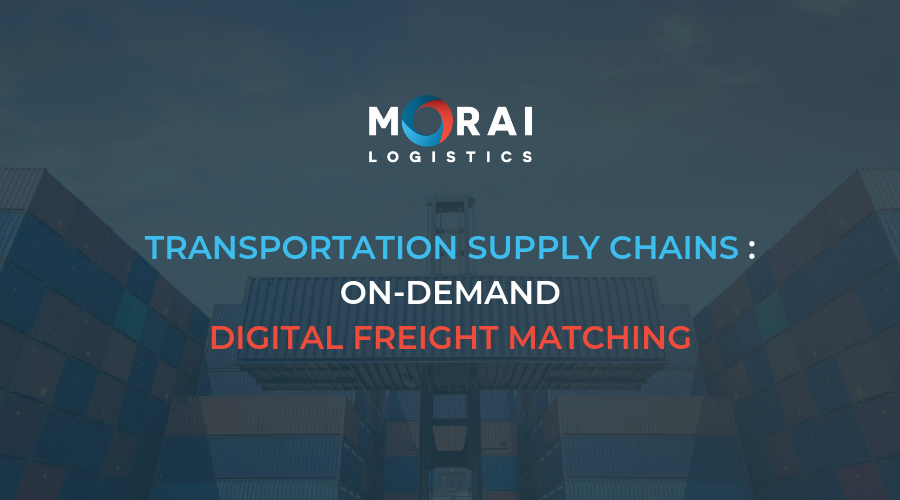 Experts believe that through digital freight matching, transportation supply chains can open a new way of driving efficiency and visibility.
Advancements in technology have created many opportunities for transportation supply chains to develop game changing digital tools. Emerging platforms such as artificial intelligence (AI) and machine learning have enabled supply chains to improve efficiencies and visibility. However, there is still an unceasing level of innovation yet to be explored, with initiatives such as mobile apps setting the stage.
Last year, Morai Logistics discussed the Uberization of supply chains, and touched on the impact of autonomous freight. According to Supply Chain Times,
The new year also provides many opportunities for shippers to turn to technologies and digital transformation to improve their operations, efficiencies and bottomline profits.
Digital freight matching, or 'on-demand load-matching', is an industry technology that experts believe will be a game changer for carriers and shippers. In fact, the on-demand supply chain market is gaining considerable attention this year as a top trend to watch out for.
This week Morai Logistics will examine the forward thinking theories surrounding digital fright matching and the role of the Sharing Economy in adoption.
Digital Freight Matching
On January 17th, 2019, Morai Logistics discussed the current capacity crunch impacting transportation supply chains. It causes a variety of setback for shippers, as a decrease in drivers means an increase in freight rates and inefficient delivery. Two of the most common reasons for this nationwide shortage is a shortage of drivers and Electronic Logging Devices (ELD).
Logistics Solution Providers (LSPs) have now turned to technology to push through the crunch, and develop solutions to find capacity that meet consumer demands. Digital freight matching, or 'Intelligent freight matching', automates the traditional forms of communication between carrier and shipper. According to Descartes, a leader in SAAS solutions for logistics, states that,
Freight matching solutions leverage new technology such as ELD and real-time tracking to know the location of carriers' trucks with capacity and help determine which carrier wants the available load the most.
Furthermore, there are two main goals that freight matching aims to achieve:
Utilize capacity and 'decrease empty miles'
Make the matching between shipper and carrier more efficient
Therefore, the outcome is a robust, smart and strategic supply chain. Third party logistics providers (3PLs) are able to integrate this into their solutions to help improve efficiencies and utilize insightful data.
Leading Freight-Matching Apps
A mobile-app that has changed the way we travel and live is Uber. This app is used in over 65 countries, with 3 million drivers. Research indicates that out of the total number of drivers worldwide, '750,000 are based in the US'. Over the course of the last year, Uber has also recognized an area of expansion, advancement and profit. It has also expanded its scope and delivered Uber Freight to the world of transportation.
Uber Freight is a good example of how technology is being utilized to create freight matching efforts. From a usability perspective, this platform enables drivers to do the following:
Access 'upfront load pricing' and a network of shippers and carriers
Tender a load with only a few clicks
Provide tracking throughout the entire shipment life cycle
Organized and real-time access to document management
Technologies, such as Uber Freight, are an example of mobility on demand (MOD). This concept describes a 'user focused' initiative that offers 'integrated transit networks and operations, emerging mobility services, connected travelers, co-operative intelligent transportation system and real time data'.
The integration of digital freight matching is another example of how technology can improve efficiency and visibility. These emerging platforms offer shippers and carriers the opportunity to expand their networks, acquire real time data and survive the industry capacity crunch.