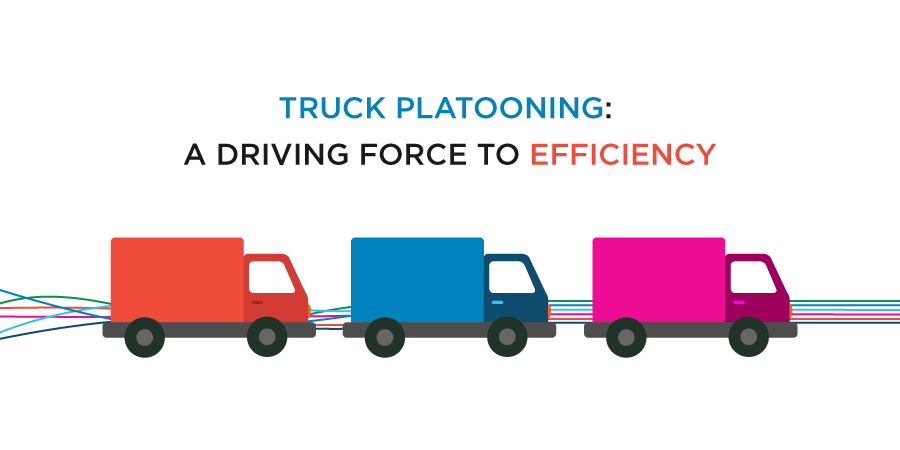 Experts on transportation supply chain and logistics say that truck platooning may help drive efficiency in today's demanding market.
In a special feature this month, Forbes revealed 4 Forces Transforming Logistics, Supply Chain And Transportation Today. Aside from political and economic shifts, and the recently discussed peak in consumer demand, 'frontline technology' also made this list. The industry is looking for ways to address efficiency, in a time where driver shortages continue to fall. Possible solutions include a shift toward autonomous vehicles, however, there is still a long way to go before complete transformation. In their article, truck platooning is referred to as the 'next big step'. It has gained considerable attention in the industry as a solution to efficiency.
Autonomous Trucking
Although autonomous vehicle technology is far from fruition, statistics on market growth reflect the industries investment in full integration. Figures show that by 2025, 'partially autonomous vehicles' will value USD 36 billion, and 'fully autonomous vehicles' is expected to reach USD 6 billion. While consumers are favouring the integration of innovative ways to travel, the self-driving truck market is also progressing. According to Market Watch:
Global Autonomous Trucks Market is growing at 15.6% compound annual growth rate during forecast period of four years from 2018 to 2023.
On-road transportation is the most common mode for moving goods worldwide. Therefore, it makes sense that the industry is investing in ways to improve efficiency. When technology integration and transportation supply chains fused together, researchers created truck platooning.
The Rise of Truck Platooning
According to the European Automobile Manufacturer's Association (ACEA), truck platooning uses 'connectivity technology' and 'automated driving support systems'. The concept involves linking two or more trucks together as they travel in a convoy style manner from point A to B. The innovative technology still reflects reality based system where there is a leader that can direct and guide those following behind. Despite this significant advancement, these trucks still have drivers along for the ride. The industry is not at a stage to release fully-automated systems just yet. However, news coverage has reported that the use of semi self-driving vehicles are underway.
Semi-autonomous trucks are being tested in various parts of North America. CBC comments that Peleton Technologies is already testing synchronization of speed and braking being tested on two or more trucks. Their motivation to push-out this initiative is to improve 'fuel efficiency by decreasing wind resistance'. This leads us to question the benefits of connective technologies, such as truck platooning.
Benefits of Self-Driving Convoys
In recent months, Morai Logistics has discussed the importance of transparency, efficiency and speed. Now more than ever, organizations in the supply chain and logistics industry must work harder to stay ahead of the competition. This means investing in research and development, and looking at options to optimize their shipment lifecycles.
There are a variety of benefits from the integration of autonomous vehicles in the transportation industry. In addition, the emergence of any technology provides opportunity for both the labour force and other sectors. The top benefits include:
Efficiency – autonomous trucks helps meet efficiency and on-time delivery needs, while giving drivers the opportunity to complete administrative function.
Improve Safety – drivers who drive for long periods of time are able to rely on advanced safety features such as immediate braking.
Sustainability – research states that self-driving vehicles can significantly 'lower fuel consumption and CO2 emissions.
Overall, truck platooning is an example of how technology is being used to address current barriers within the transportation and supply chain industry. The need to improve the shipment life cycle continues to fuel how we innovate our transportation methods.