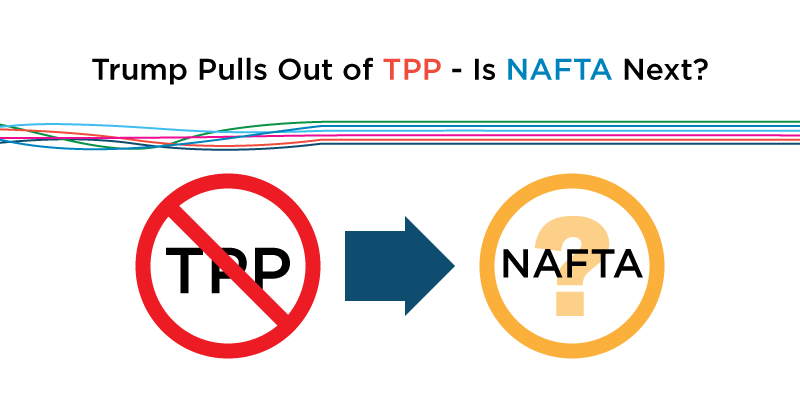 Earlier this week, newly inaugurated president Donald J. Trump withdraws from the Trans-Pacific Partnership (TPP). Hence, the U.S withdrawal from the 12-country agreement effectively rendered seven years of negotiations a waste.
Pulling the U.S out of TPP was one of Trump's campaign promises. Though, aside from the possible global-political ramifications of the action, what many are wondering now is if he'll do the same to NAFTA and what all this will mean for the logistics industry.
Consequences of the Withdrawal
To say TPP was controversial would be an understatement. Several protests around the world were held throughout the negotiations.
There are many reasons for and against TPP, with both sides passionate about their position. But, the trade agreement would have created a network encompassing 40% of all world trade and affected millions of people across the world. Other global concerns would've been impacted as well, including cyber security, environmentalism and free trade.
Fallout of the withdrawal is being hotly debated across the professional and media landscape. So we have detailed the three key concerns that are being discussed:
Loss of North American competitiveness — TPP would've eliminated more than 18,000 taxes and trade barriers across its member countries. By pulling out of the trade agreement, the U.S and by extension Canada, is losing out on a large section of the global market. Farming manufacturing, and the services and technology sectors will be impacted the most. While Canada and Mexico can still negotiate on their own, they lose a lot of bargaining power without U.S backing.
Loss of North American influence over global trade — One notable absence from TPP was China. Some experts theorized the exclusion was intentional. TPP they argue, was an attempt to counter China's growing economic influence on global trade. China has pushed its own trade pact, called the Regional Comprehensive Economic Partnership (RCEP), which currently has 16 members. By backing out of TPP, Trump may've pushed some countries that originally signed to seek other trade agreements, like RCEP.
Risk of protectionism — The U.S is not part of the RCEP. If it goes through, experts are worried that it will have tariffs against the U.S. This, along with the shaken confidence of TPP members may raise the number and cost of tariffs.
What Will Happen with NAFTA?
Trump promised Americans to either renegotiate or outright end NAFTA during his campaign. His actions with TPP indicate he's serious about his promise.
When asked on Monday, White House press secretary Sean Spicer said Trump would rather renegotiate NAFTA rather than tear it up.
"Mr. Spicer said Mr. Trump's complaint is with "multinational" trade deals because they are more complicated to renegotiate. But he said the President was open to bilateral deals – a sign that he might be willing to keep a deal with Canada, even if he makes good on his pledge to change the terms of NAFTA to make it harder for American companies to move to Mexico" wrote Adrian Morrow, reporter for the Globe and Mail.
Trump will be meeting with Prime Minister Trudeau and Mexican President Enrique Pena Nieto in the coming weeks to discuss a renegotiation.
If NAFTA were to end, it would have serious negative repercussions for the transportation, manufacturing and logistics industries across the three nations.
The end of TPP is already having an impact on offshoring efforts. Thus, the coming weeks will see if nearshoring efforts will be upturned as well.
That's it for us this week! If you liked this blog post, why not subscribe to our blog? If you're interested in what we do as a 3rd party logistics provider, don't hesitate to check out our services (as expressed above, we are very pro finding you the lowest total cost!). We're also in the twittersphere, so give us a follow to get the latest logistics and supply chain news.