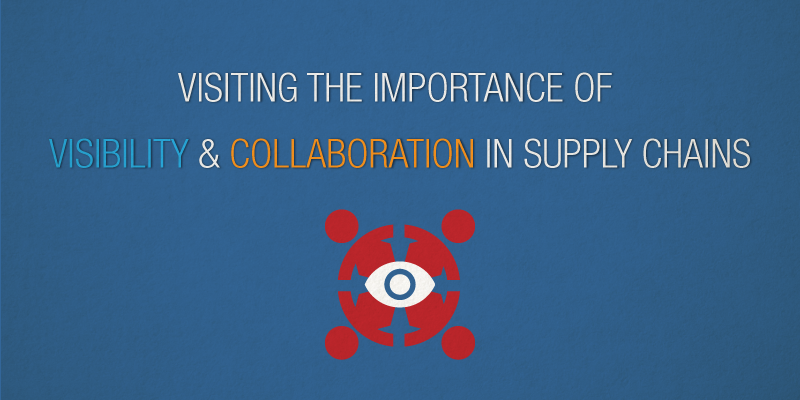 Two new studies were published earlier this month that looked at supply chain visibility and collaboration.
Supply Chain Visibility & Collaboration Study
The first study by ARC Advisory group titled Supply Chain Visibility & Collaboration Study surveyed 200 organizations from a wide range of industries.
The researchers defined supply chain collaboration as "having a collaborative, multi-supplier, multi-tier, supply chain planning solution" writes Steve Banker in this Forbes article covering the study. "For visibility, the definition was a solution providing visibility to the order process (order placed, order adjusted, order accepted), inventory at rest or inventory in motion events, or supply chain risks, or providing a stand-alone supply chain analytics/event management solution not embedded in other solutions" he continues.
The survey asked respondents to weigh in on issues such as inventory visibility, supply chain costs, new enterprise resource planning integration, responsiveness to customer demands with specific focus on strategic questions such as,
Why have B2B network suppliers emerged as leaders in this market?
How will Internet of Things data be leveraged by these solutions?
How will these solutions affect the next generation of supply chain software platforms?
What are the niche solutions poised to grow rapidly in this market place?
What the survey finds is that not only visibility and collaboration software is growing very rapidly, but that B2B network solutions specifically (for both visibility and collaboration) is what's driving the market's rapid growth.
The ROI with visibility projects has to do with SCP applications improving service levels with less inventory.
"The more companies can reduce their lead times, and the less variability there is surrounding those lead times, the better the ROI that can be achieved with SCP tools. Supply Chain Visibility, provides the data and metrics surrounding lead-times, and then allows Lean practitioners to work with supply chain partners to improve and control those lead-times" writes Banker. Another reason why visibility is so important is supply chain orchestration. Through orchestration, a company is able to balance supply-demand in reaction to surges as well as deal with supply disruptions more promptly.
University of Tennesee Global Supply Institute Study
The second study published by the University of Tennessee's Global Supply Institute, in collaboration with B2B integration provider DiCentral. The study involved surveying over 200 organizations of various sizes and asking respondents to weigh in on issues such as inventory visibility, supply chain costs, new enterprise resource planning integration, and responsiveness to customer demands.
The study found that to increase business flow efficiency and cut cost, many companies are investing in B2Bi (business to business electronic integration).
"Of those surveyed, 94 percent saw significant improvement in their electronic connectivity capabilities and 68 percent reported that their clients said they were easier to do business with after using cloud-based B2Bi managed services" write the researchers.
The findings of the study echo those of the ARC group in so far that lead times are reduced, forecast accuracy improves, and supply chain reactivity improves when visibility & collaboration becomes a focus. For example, from one of the case studies the study cites,
An office supplies retailer surveyed for the study invested time and technology to collaborate more effectively with a major supplier, and as a result, in-stock fill rates rose significantly—to nearly 99 percent from below 95 percent. Lead times reduced nearly 60 percent. Forecast accuracy improved by more than 30 percent, and inventory turnover increased 9 percent
That's it for us this week! If you liked this blog post, why not subscribe to our blog? If you're interested in what we do as a 3rd party logistics provider, don't hesitate to check out our services (as expressed above, we are very pro finding you the lowest total cost!). We're also in the twittersphere, so give us a follow to get the latest logistics and supply chain news.