The Morai logo, site, and brand have undergone a significant transformation! Our new identity had to satisfy all of the existing expectations of what our original mark stands for, while also moving the brand forward.
We've carefully deconstructed the existing logo and studied its fundamental shapes, angles, and weight. From this we've gone forward in creating a new logo that has been updated to better reflect the value we bring to our customers.
Our company derives its name from the Moira of Greek mythology (also known as the Fates). They are the three sisters who weaved and ordered the destinies of gods and mortals alike.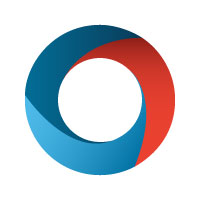 Like the Fates, Morai is dedicated to "bringing order to your chaos" which is why this phrase was used as our original slogan and why our original logo had an eye of chaos. We removed the slogan, but we've kept it in the elements of our new designs.

In the same way we streamline the logistic challenges of our customers, our logo has also been streamlined to better align with our new slogan "We deliver from origin to success" which better emphasizes our number one priority: the success of our clients.
It is this customer focus that has 75% of shippers agreeing that use of 3PLs contributed to better customer service.
The Secret of Our Success is Your Success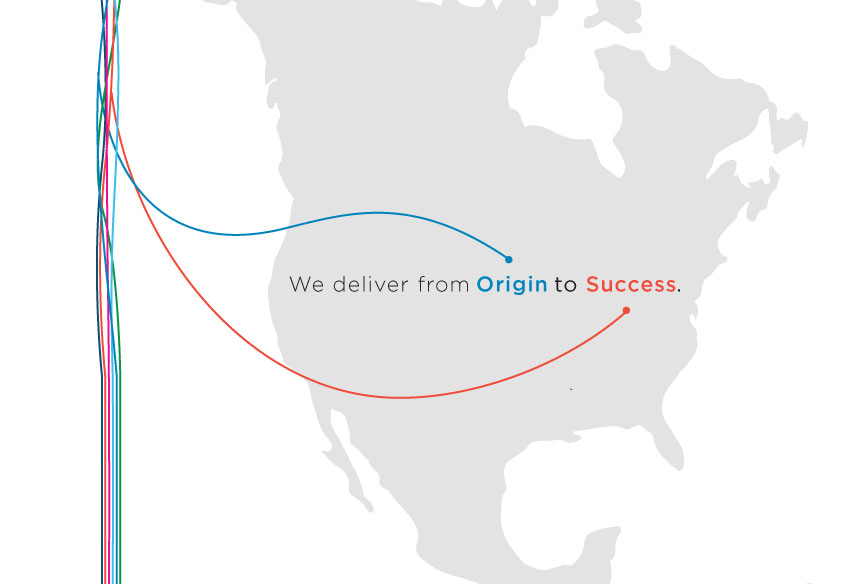 Logistics is painstaking to those who don't live and breathe it. Supply lines can become messy and chaotic, while priorities get confused in the noise of all the many parts. At Morai, we specialize in ordering that chaos, and streamlining it into a steady flow.
We do this by ensuring that our success is tied to your success. This is why our team is comprised of client success specialists who are each an expert in different aspects of logistics. They are assigned in response to a client's biggest pain points and provide solutions that are specifically catered to each situation.
Simplify Your Logistics Inquiries with Our New Features
Morai has added exciting new tools to its site, the free to use Spot Quote Form, and the Logistics Concierge which can always be found on the bottom left of the home page.
Spot Quote Form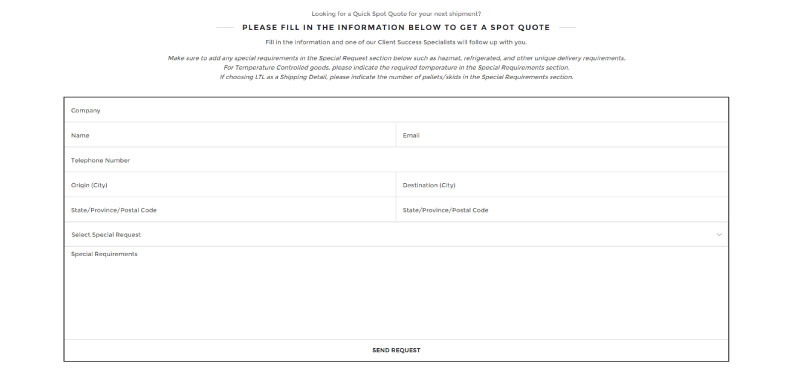 By filling our new Spot Quote Request Form with your basic shipment details we can get you fast, accurate estimates on your shipment to use and compare as you shop service providers. Our commitment to our customers means that within 24 hours, you'll have your form processed and replied to by our client success specialists.
While another service provider may quote you a lower rate (while omitting other costs such as tolls, labour, lack of visibility, etc.), Morai works towards providing you the lowest total cost which means full transparency on how each cent is spent.
Logistics Concierge

Sometimes there are questions that a form for a Q&A page just can't answer. It is for this reason that we've added a Logistics Concierge feature on our site. With it, you talk directly with our client success specialists and receive answers to any logistics-related questions (or about how to use our Spot Rate Form) within 24 hours.
Our logistics concierge hours are during our normal working hours, but don't worry! If you need to ask the concierge a question and we are not available, simply leave an offline message using the concierge form and we'll get back to you as soon as possible!
There is No Better Time to Consider 3rd Party Logistics Services
One last point we'd like to cover is that 2016 is the year for new manufacturing technologies There are several reasons to use a 3PL. For example, at Morai Logistics:
We provide opportunities to reduce costs; companies like ours will focus on getting our clients the lowest total cost. Not just the lowest rate
We can help you deal efficiently with volume peaks and uneven demand with our access to the Mode Transportation network, including trucks and Class 1 North American railroads
We can analyze, then meet and improve your growing distribution needs
We help take the pain and hassle of thinking of all the things that need focus along the logistics and supply chain process so can focus on your business's development and success
The core of these benefits is that you're receiving value in the form of time. This is why 75% of 3PL users agree that 3PLs provide new and innovative ways to improve logistics effectiveness; and why 83% of 3PL users agree that the use of 3PLs has contributed to improving services to their customers.
Certified Diversity Supplier
Morai Logistics has been, and still is, a certified diversity supplier through the WBENC and WEConnect International Certified businesses as well as WBE Canada as a woman-owned business.
That's it for our big announcement! So check out our site, read our articles, fill out a Spot Rate Form, or ask our Logistics Concierge a question. Let's get started and bring an origin to our relationship and to your success!