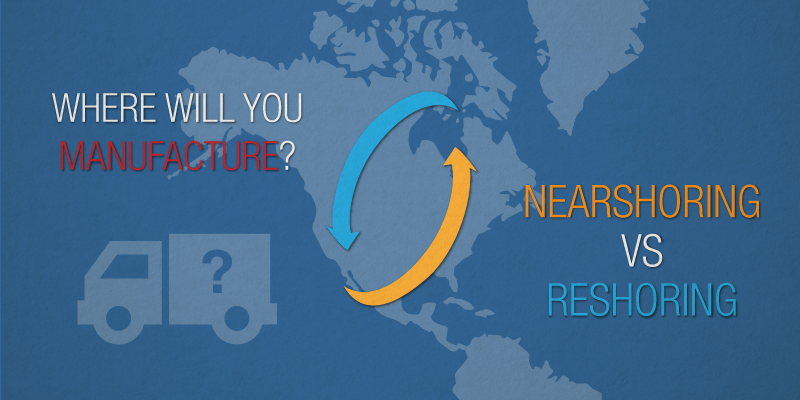 In the past, we've written about the benefits of near-shoring over off-shoring. However, something we haven't discussed in much detail is re-shoring.
A recent article on EBN discussed the findings of Cushman & Wakefield's 2015-2017 North American Industrial Forecast. In the article, writer Jennifer Baljko highlights the differences between the praise reshoring has gotten in the media versus Cushman & Wakefield's findings and in doing so, asks an important practical question of manufacturing and logistics companies: "Where will you put your factory?".
Before going any further, it's important to properly define the terms re-shoring and near-shoring as they are sometimes used interchangeably despite them having very different meanings.
According to a Forbes article on the topic,
Re-shoring refers to manufacturing that was previous done outside of America and has been moved back to America. Near-shoring refers to manufacturing work that has returned closer to America in countries such as Mexico.
Cushman & Wakefield's findings, as Baljko points out, makes fining quality and affordable space for factories and warehouses one of the biggest challenges for companies who decide to move back home.
"A lack of quality space remains one of the biggest challenges facing manufacturers in the U.S. Emerging technological advances, such as improved measuring/process control, advanced digital technologies and sustainable manufacturing, have made many older facilities functionally obsolete, opening the door for more speculative construction to take place within the next few years," the report noted.
How Does Near-shoring compare?
Although Cushman & Wakefield's study advised caution for companies considering re-shoring their manufacturing, their findings did indicate that near-shoring to Mexico might be a more prudent long-term strategy.
"Major drivers of industrial real estate activity continue to reflect the prominent role of distribution and logistics sectors. They include large renovations, like Kuehne+Nagel's 341,000 sf at O'Donnell Logistics Park, or expansions, like Walmart's 132,000 sf at Parque Industrial El Convento" they write.
The reason for this is that is because of the competitive land prices the country offers. "Average industrial land costs range from $638.08 psf to $231.85 psf for private industrial parks sites and raw land respectively" they write in their report.
Manufacotring in Mexico also has other advantages that we've written about elsewhere, but according to Cushman & Wakefield's, "Generally, Mexico is increasingly developing a pool of high-skilled workers and rapidly integrating its manufacturing industries with global production lines. Also, in addition to a successful macroeconomic reform agenda, an ambitious investment program by the federal government is expected to bring further improvements to Mexico's transport and logistics infrastructure" they highlight in their findings. "Given such factors, Mexico's industrial real estate market is forecast to continue growing and benefiting from increased demand from a diversified range of industries" they conclude.
That's it for us this week! If you liked this blog post, why not subscribe to our blog? If you're interested in what we do as a 3rd party logistics provider, don't hesitate to check out our services (as expressed above, we are very pro finding you the lowest total cost!). We're also in the twittersphere, so give us a follow to get the latest logistics and supply chain news!