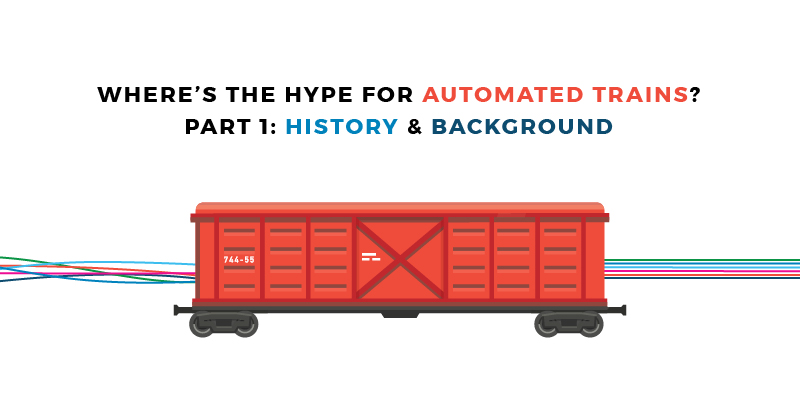 Talk of automation is sweeping the transportation industry, but there's barely a whisper when it comes to automated trains or self-driving trains.
The conversation around automation and A.I is nothing new. Since 2010, it seems like every industry headline has to do with a newly tested application for these technologies. This isn't surprising. The technology is indeed revolutionary and if recent advancements are any indication, very close to becoming the new standard. Industry experts are predicting that in three short years, both automated cars and automated ships may be a reality.
However, trains, another essential mode of transportation, seems to generate little news on the automation front.
This may seem strange on the surface, trains run on a track, after all, meaning they have only two directions of movement. Conversely, both cars and ships have eight directions of movement. Their onboard A.I would also need to worry about the local geography, weather conditions, other cars or ships, etc. Trains seem like the first and most obvious choice for transport automation.
The reason why there isn't of a push for more fully autonomous trains boils down to two issues: unionization and the importance of snap-judgements. Before we can deep- dive into those issues, it's important we look at the background of the technology as it relates to trains.
Train Automation: A Short History
Believe it or not, the technology to automate trains already exists. It has for decades, between 20 to 30 years according to David B. Clarke, director of the Center for Transportation Research at the University of Tennessee.
Vice journalist Carl Franzen, in his investigative piece for Motherboard, looked at the questions of "why we don't have driverless trains yet". According to the article, they already exist, we just don't hear about them. The first completely automated subway went into service in New York in 1961. Canada wasn't far behind as it tested a crewless freight train system shortly after according to an official report.
Automated Train Systems are More Common Than You Think
Since those early attempts at automating trains, the technology evolved and spread around the world. Franzen, quoting International Association of Public Transport (UITP), an advocacy group that promotes public transit, writes:
48 fully automated public metro systems can be found across 32 countries […] That number doesn't include other private light rain systems which number in the dozens
Train network automation has been around for so long and is so prevalent, that the UITP actually has Five Grades of Automation (GoA) for trains:
GoA 0 is on-sight train operation, similar to a tram running in street traffic.
GoA 1 is manual train operation where a train driver controls starting and stopping, operation of doors and handling of emergencies or sudden diversions.
GoA 2 is semi-automatic train operation (STO) where starting and stopping is automated, but a driver operates the doors, drives the train if needed and handles emergencies. Many ATO systems are GoA 2.
GoA 3 is driverless train operation (DTO) where starting and stopping are automated but a train attendant operates the doors and drives the train in case of emergencies.
GoA 4 is unattended train operation (UTO) where starting and stopping, operation of doors and handling of emergencies are fully automated without any on-train staff.
As you can see, the technology is further along than where it is with cars and boats. While automating those two transportation methods is still several years away, trains have enjoyed a nearly 50-year head start. Why then isn't there more investment in fully automating all train lines?
The answer, as mentioned in the introduction, has to do with unionization and quick decision-making. Come back next week when we go over why these two issues are such a barrier to future train automation efforts.
If you liked this blog post, why not subscribe to our blog? If you're interested in what we do as a 3rd party logistics provider, don't hesitate to check out our services (as expressed above, we are very pro finding you the lowest total cost!). We're also in the twittersphere, so give us a follow to get the latest logistics and supply chain news.